I love it when the stars align.
I have some good friends that love good food. They made very good pork sausages with kimchi, which they fermented themselves, and added into the meat mix. Generous people that they are, they shared some with us. Tasty!
These friends have most everything they need to survive, including good sausages, so how to say thanks is tricky…unless you can make kimchi jars…stars align.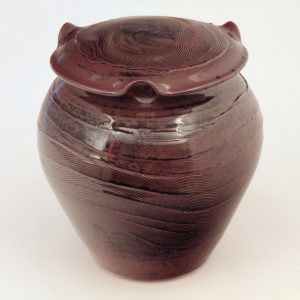 I hope you will enjoy seeing these large jars thrown on the wheel, and the way that they are decorated in the video clips below. I love this combing technique, because it is so tied to the modern potter's wheel and the hand of the potter. The slip used for combing is my clay body before being dried out for throwing. You can add colorant oxides for other effects too. It seems so natural, so integral. As you will see in the decorating video, the variations and results are infinite. I have used this technique for at least 35 years, and am still thrilled when it works.
Enjoy the videos and don't forget we have an exhibition in Lonsdale over the next two weekends. Hope to see some of you in our studio.
Harlan House RCA