Don't hire me to renovate your house. I built a shed attached to my studio 15 years ago, and am just finishing it now.
The building is a wall away from my kiln, and I built the place in case I needed or wanted to build another kiln. As it turns out, my old kiln is just fine, and the new building has been the go-to place for "stuff". The stuff is now where is should have been all along, and the empty space looks pretty good.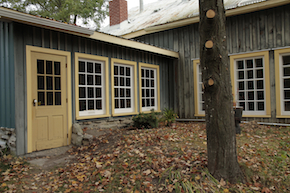 I have restored an old set of Victorian windows, and made casements for them. I have the ceiling painted and some of the beams too. The building has no nails in it and sits on a nearly flat limestone slab that is fifty metres thick. I built it using old barn timber techniques, which was a lot of work and a lot of fun. Which gets me to the point…there might be more fun ahead. The original plan for a kiln was real, but I also remember pacing out the area and thinking "pool room". That is what it is going to be. I am looking for a nice old snooker table with real wood and real leather pockets. I have had a cue for thirty or more years, so a table and balls seem like the only way to go…and I have some ideas about how to light the place. I will keep you posted.
Harlan House RCA

---
Visit Harlan's Facebook page.