Hi again,
Thank you for your interest in the retrospective work we shared with you last week.
As promised, here are some new pieces – so new they are still warm! I hope you will enjoy seeing them at our Lonsdale Studio Exhibition this coming weekend.
We will be open from 11 to 4 on Saturday November 5 and Sunday November 6.
Maureen has made some fabulous cookies, and we will have coffee to go with them.
Directions can be found on my website. Our phone number and email are there too if you need a hand getting here.
See you next weekend,
Harlan and Maureen
---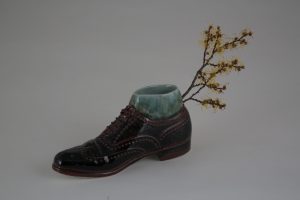 Black brogue single flower vase is a romantic reaction to what passes off as men's shoes today. Florsheim Brogues were made well, and made well enough that they lasted for most of a lifetime. I have a pair that is 35 years old, and still going strong. These should last even longer.
---
---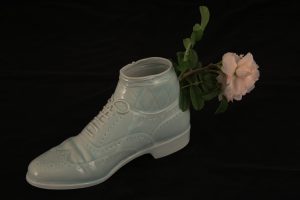 Celadon brogue single flower holder is what this potter would order if he could. Don't you hate the bad elastic in today's cheap men's socks?
---
---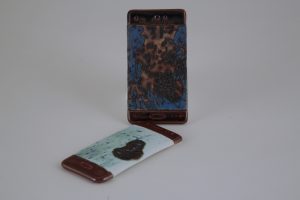 Galexy 7 and Galexy Princess cell phones are just a natural for this potter…not so much to use, but to make. I make things that go into a kiln and endure a lot of flame, so when something like the Galaxy Note 7 comes along, and ignites all on its own, this potter took note…and went to work. This one will last a lot longer than the Note 7.
---
---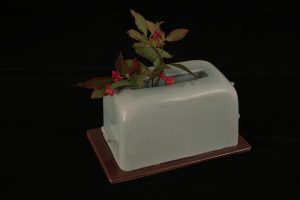 Celadon flower toaster is my reaction to looking at our own toaster, and realizing that it is only used for a few minutes a day and then ignored…seriously ignored. How that feels I cannot say, but the new version will get a lot more attention, and will last a lot longer than our kitchen version.
---
---