We live on about half a hectare [a big acre], or half a city block, with about half of it in gardens. Lonsdale is a hamlet in Eastern Ontario on shallow soil and limestone. We have about the same number of dogs and cats as we have people…about thirty-five.
Maureen loves flowers. She has a memory [that I envy] so she knows what blooms when, and remembers where she put it, and why. She also looks after what she has planted when it no longer gives its beauty to us…she cares. Maureen brings balance to the beds with an English garden feel, crossed with an Irish worship of green. With very few exceptions, we just plant perennials.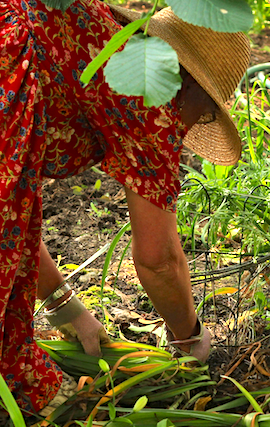 Maureen cuts flowers for our house, especially in the spring. It is wonderful to go into the bathroom and have tulips saying good morning to you. It is a good idea to have the right vases for this kind of activity. I adore what she does with my work. I also love the size of her arrangements … small, with a focus on the beauty of just a few flowers. I learn a great deal about making flower vases from watching what Maureen does with them…valuable to have if you love making homes for flowers, and I do. . It has always been my thrill to see Maureen's eyes and hands fondle a piece of my work coming out of the kiln, and hear her say, "If this doesn't sell, I know where it can go".
I love trees and rocks. If a flower wants to live with them, that is OK too. I am not fond of weeding. My trees are natural to this clime. Growing up in the West, near the mountains, I have always admired the tenacity of trees growing in rock cliffs in less than perfect conditions. It turns out that is what we have, so things are working out. In walks in local forests and valleys, I see the co-habitation of many varieties of living things. It is that naturalness I seek with the rocks we have, and the trees that have been planted over 40 years. I want calm and care to prevail, but I know that nature will have a different view so I respect that. Like the wild places, our garden is not "fussy".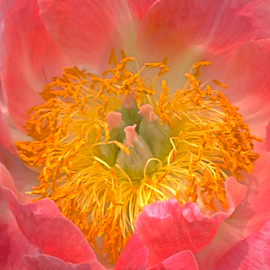 We both adore spring flowers for so many reasons. The word spring is a good starting point. We always try to add to the tulip, narcissus, and daffodil population. As an optimist, it gets you through the winter just wondering how good they will look in their new porcelain homes.
We also have grown just about every vegetable imaginable, with a good degree of success. Our veg garden is now smaller; we are older, and like to be bent over a little less. We have also learned in 40 years what likes to grow here…handy information. We get a month of asparagus, a few weeks of snow peas, months of salads, weeks of rhubarb, a year of garlic, lots of root crops, and more beans than you can eat. We live on tomato sandwiches all late summer, and use the rest in sauces for pasta or in roasted dishes with local sausages. If there are any left over, they go into pizza sauces, since all bonafide potters have a little wood fired pizza kiln next to their gardens. There are plums, apples and wild grapes too. Add onions, sorrel, dill, parsley, sage, basil, cilantro, rosemary, bay, mint, thyme, and you get the idea. We know how to preserve the excess for winter, but prefer to eat fresh food and enjoy everything at its prime. Both of us like to cook.
We also have some ducks, because you can tell them jokes and they always laugh.
---
---
Harlan House RCA


---
Visit Harlan's Facebook page.