Lonsdale is almost perfect. We have mosquitoes, black flies, and the odd deer fly – other than that, it is perfect. This little imperfection is why I built a summer room with windows and screens. I found the table in a tombstone yard, and built the oven a year later in 2004. Maureen and I almost live in this little room all spring, summer and fall.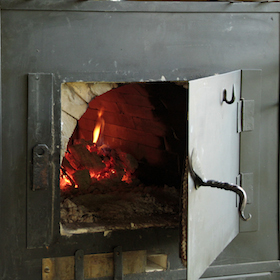 We have been cooking together for over 50 years, and by now we know who can do what and who has the memory. We both enjoy the whole thing. I have been lighting fires to cook with for almost the whole time. We know that if we are going to eat at 9:00 pm, a fire will have to lit about 5:30 or 6:00 and will need some attention along the way. I did not start the slow food movement, but it lives here, and it is a fine movement. I also make my own dishes.
One of the newest additions to our bakery is the chandelier. KFC and me go back a long way. When I was serving on the LTCHS school council, we had a Christmas dinner at the newly opened KFC place in Red Deer. I walked to Maureen's place afterward, and became one sick puppy. Rich and sticky would describe what I ate. Me and the Colonel haven't been friends since.
I have been painting, and making porcelain works with fast food as the subject matter for some time, so this "Beater Bucket" should come as no surprize. It is a lot of fun making fun of such an Icon, and it is even better when Maureen and I cook good food together, and eat it in his presence. For us, the "Double down" is two glasses of wine, and a kiss.
---
---
Thank you to all of you who have taken the time to read and use the blogs on the website. Thanks also to web master Abraham House, who keeps it running and provides encouragement.
Kind thoughts,
Harlan House RCA