I started to work on bas relief or low relief carving before I knew what it was called. A neighbour in Lethbridge taught me the basics of leather carving when I was in Jr. High School. I earned my way through high school and some of art school making ladies purses and wallets. Sixty years later I am still trying to get it right only now in porcelain.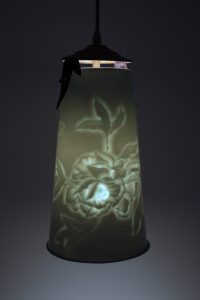 I wanted to share this bas relief technique with you because it is so old and so useful to any potter. It is one of the slowest jobs in my world, and for me that makes it special. I am sure someone will try to speed up the process, but for me the joy is in the thoughtful, quiet and slow pace of the work. It is like watercolor…everything counts and you have to get it right the first time!
In this case, I am making a lamp fixture that will hang over top of a table setting for my exhibition at David Kaye Gallery in Toronto this coming February. The show is called Table Talk. This exhibition is all about how my celadon glaze works on low relief surfaces. Magic. Ok, maybe not, but close.
The video above is just a teaser – a time-lapse showing the carving of a peony vase. For those who wish to really study how it is done, there is more information and a full length video of the carving process (with a few comments at the end) in on my webpage here. I'm hoping that this will be valuable and look forward to hearing from those who learn from it.