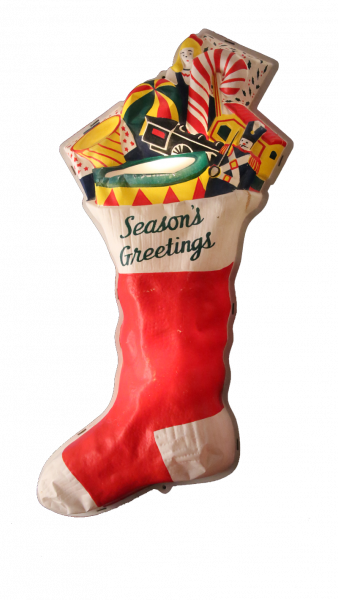 Lost and Find
Maureen's family had this in their home over 70 years ago. We keep up the tradition of hanging it each Christmas season. I looked for it in a storage room at the studio in mid-December. Found it, amid five other boxes. Had to peek.
I found my very first Iris vase, and a couple of other Iris vases as well. Two were victims of a cool draft in the cooling cycle of the kiln and had dunting cracks. Imperfect but beautiful. I used Kintsugi to revive them.
On another mission, I was looking for some lamp shades. Found them, and three other vases that I dearly loved for years. Again, imperfect, and beautiful. Kintsugi.
In a few weeks I will be adding a book to the website called "The Find". It is a feature that I have been working on for about a year, and it will cover the first 20 years of my work in the Canadian ceramic world. I think you might like it. It is all about storage.
Happy New Year, or as the old sock says, Seasons Greetings.
Harlan
---
1976
Here is what I found…
My first iris
I used the iris flower on many forms, but this one was a challenge. It really is a sculpture. Because I am a potter, it stands as a vase too. It is traditional, and it is not. I am going with the not because it is a modern piece made in a very old-fashioned way. I wanted its newness to count more. It was a good start, and things did get better. I found a very good home for it here in Lonsdale. It will be very well looked after.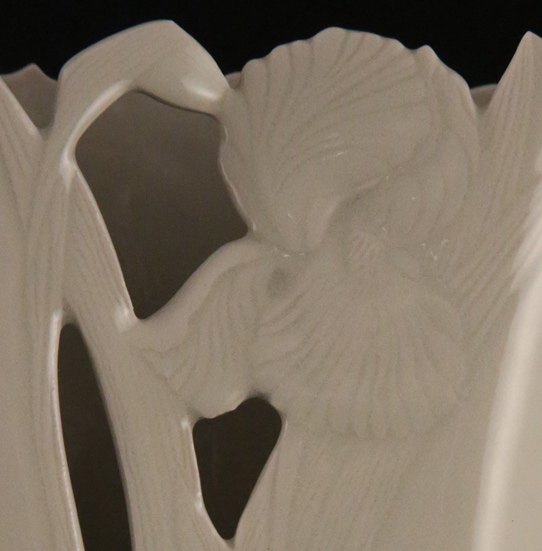 First iris vase. 42.5cm high x 15 cm wide x 8 cm deep. January, 1976.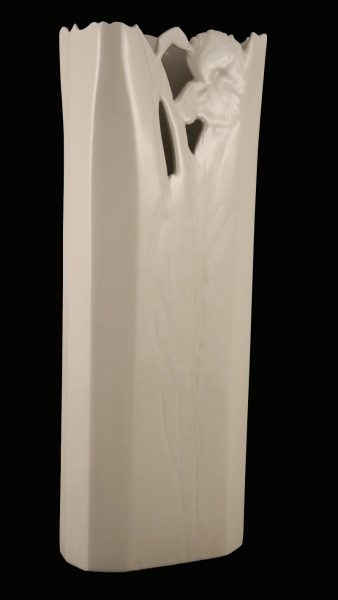 ---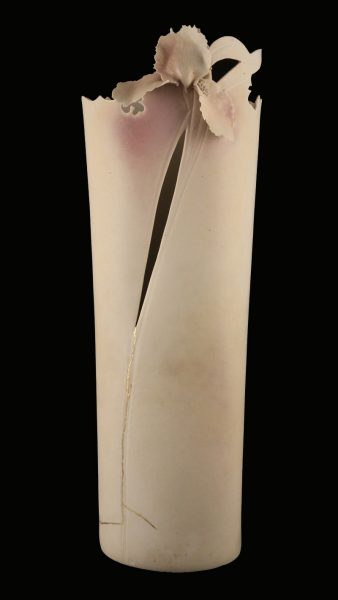 1978
Tall iris
I made a few of these, and almost all of them failed like this one did. They were so large, that cooling them evenly and slowly was difficult. I learned from this. When the kiln was cooling and was a dull red, I bricked up all the burner ports, and added extra insulation to all the peep holes, and then waited. Instead of the usual one day cooling off, I extended it to two and sometimes three days. Patience. It worked. I lost a few, but not as many, and what made it through the fire was rewarding. It is 58 cm high and was made in 1978 and marked as 9. Some of these were around 70 cm high going into the firing. I recall only getting 3 out of the kiln in perfect condition.
Tall iris vase, no 9. Thomas glaze, Kintsugi 23c gold. 58cm high, 1978.
---
1977
Windy iris
When we first fell in love with iris flowers, we planted them everywhere. I noticed that many times just as they were to bloom, the wind blew them flat to the ground. They bloomed anyway, just to show that they could. Tough. Persistent. Determined. It was a lesson on how to be for this potter. Adding a bit of "real" windy environment to this sculpture gave it meaning for me. It is 45 cm high and was made in 1977 and marked 65. Maybe a test number, but no idea after that.
Iris in the wind vase, no 65. Kintsugi 23c gold. 28cm high, 1977.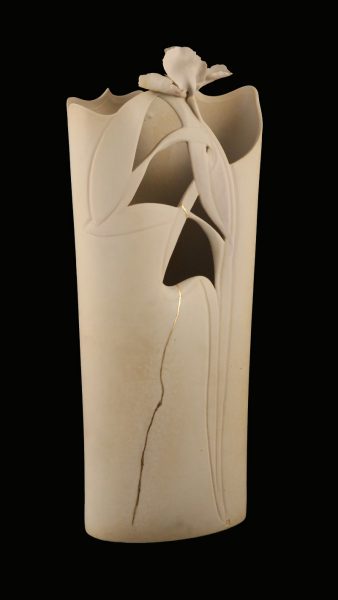 ---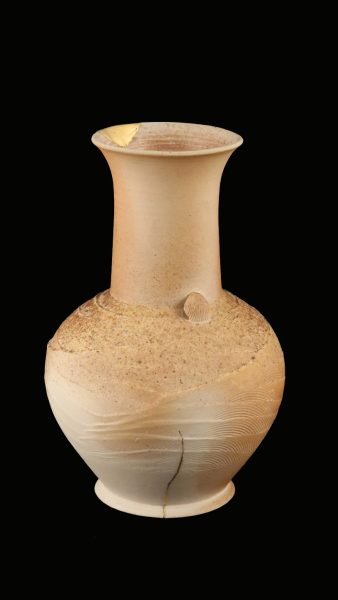 1990
Wood fired vase
I have had this vase sitting on a shelf in the blacksmith shop for over 30 years and have loved its presence for all that time. The relationship between the seashell, and the combed slip repetitive pattern has always rung a bell for me. Nature and natural all in one. I have no idea how it got such a ding on the rim. Now that it is fixed, I hope a story will come. I am waiting…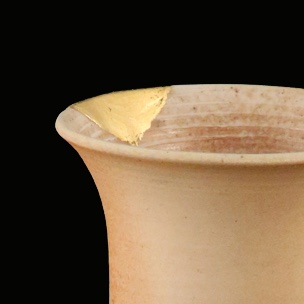 Wood-fired shell shoulder vase. Combed slip decoration, Kintsugi 23c gold. 28 cm high, 1990.
---
1973
Floppy mouth vase
I have also had the floppy mouth vase in the blacksmith shop for years. It took a hit in one of the first kilns we ever fired. I have always loved the colors in the brushwork, and even though I did it, in the end it was the force of heat and a strong breeze in the kiln that made it work. It is nice to be part of the action when beauty happens.
Floppy mouth vase. HH celadon with iron oxide brush decoration, Kintsugi 23c gold. 12 cm high, 1973.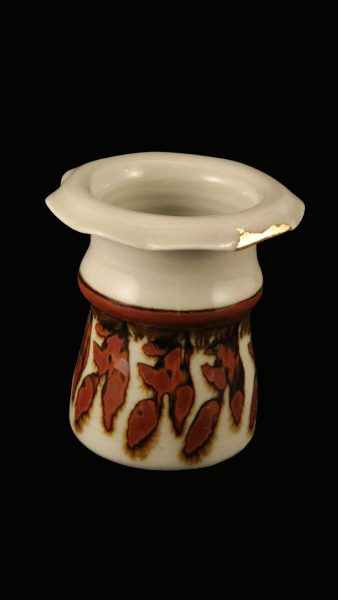 ---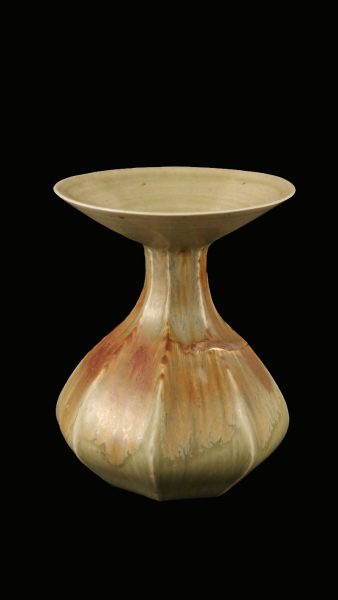 1981
Bowl mouth vase
I have also had this one in the blacksmith shop for years. I love the shape, and it is a difficult shape to make well. It had a small surface crack so did not make it to the galleries. Kintsugi now makes it possible for that to happen. I will miss it in the old blacksmith shop. Change…
Bowl mouth vase. Carved and combed celadon with on glaze iron oxide, Kintsugi 23c gold. 18 cm high, 1981.